Replacement School Project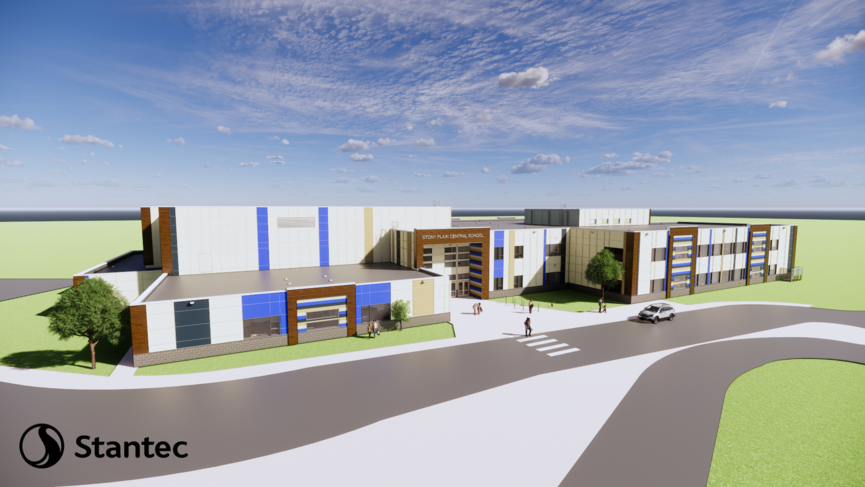 The new Stony Plain Central School is highly-anticipated and an integral part of Parkland School Division's Strategic Facilities plan. The addition of this future learning site marks the third brand-new school to join the division since 2016 and represents extensive collaboration between PSD and the Town of Stony Plain.
Status of Project // Status of Construction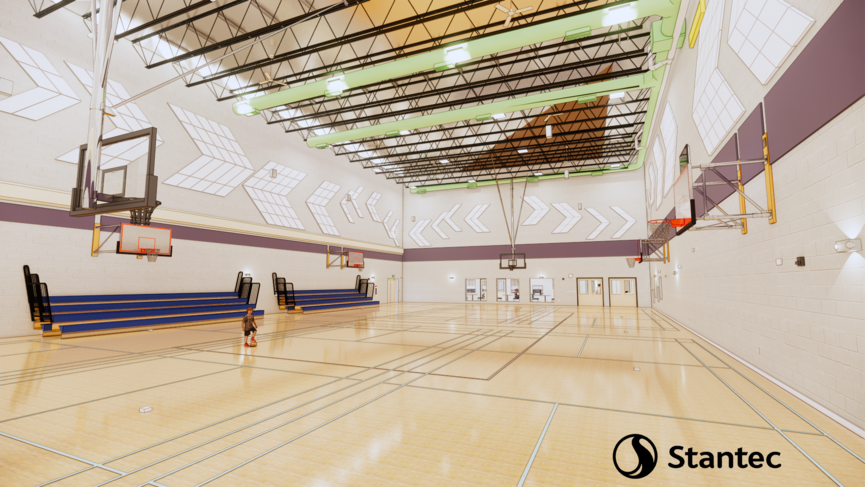 Summer 2020: The design phase of the project reached 90% completion over the summer. This progress allows the division to start the tendering process for the new building in the fall.
September 2020: Parkland School Division, in partnership with the Town of Stony Plain, announced details of a Land Swap Agreement that paved the way for construction to begin on the replacement school. The Town had recently completed the paving and servicing of the 57 Avenue extension that will serve as one of the main access points to the future learning site.
December 2020: Planning and preparation continued on the division's third brand new school in the past five years. Since this is a new build, the division does not anticipate any disruption to activities at the existing school's site.
February 2021:  PSD is excited to team up again with Marshall-Lee Construction Corp. on the project. They are the same contractor that completed the current Memorial Composite High School back in 2010.
Spring 2021: Construction on the new Stony Plain Central site is set to begin in spring 2021.
Location
5313 - 57 Avenue, Stony Plain, AB  T7Z 2M6
Student Capacity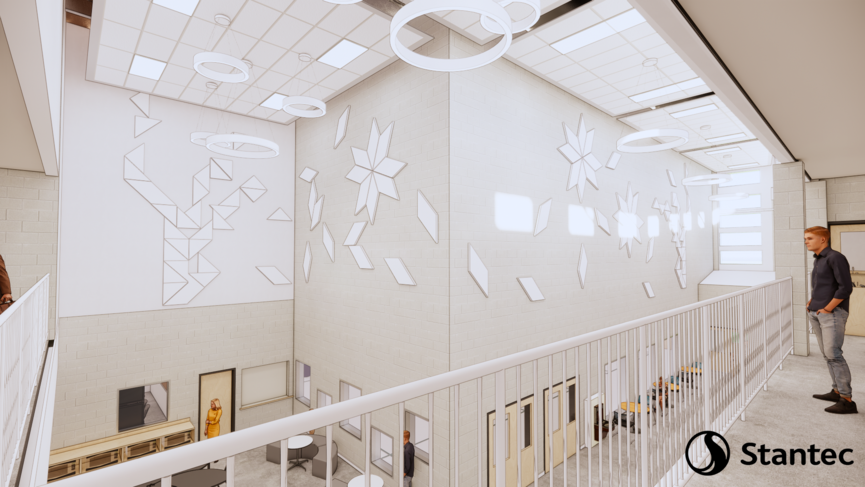 The new school will be able to accommodate 900 students (no modular buildings will be used).
Design & Floor Plan - Main Floor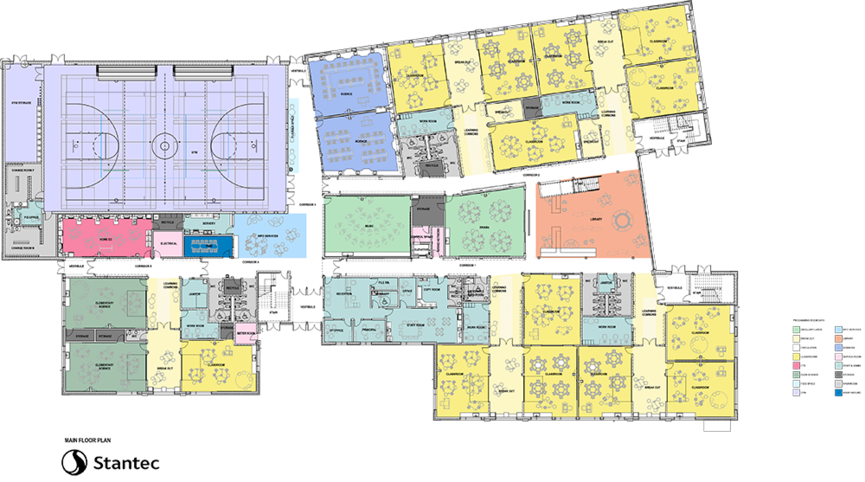 Design & Floor Plan - Second Floor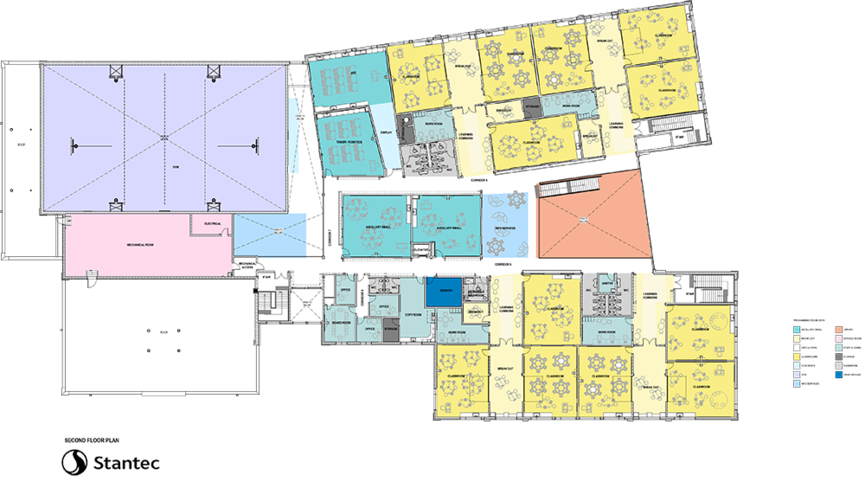 Land Swap Agreement (September 2020)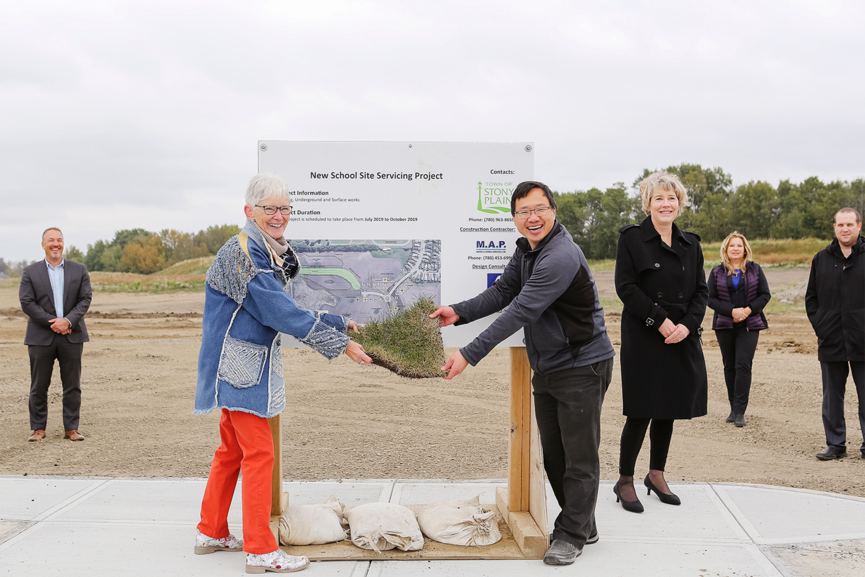 At the August 19 Special Board Meeting, Parkland School Division's Board of Trustees passed the following:
The Board of Trustees accept, subject to the Minister's approval, the sale of lands located on the current Stony Plain Central and the Old Memorial Composite High School sites in exchange for a new Stony Plain Central School site and elimination of joint use costs for the next 29 years, as defined in the Land Swap Agreement as presented at the Special Board Meeting on August 19, 2020.
"Families at Stony Plain Central have been patiently and excitedly waiting for construction to begin for their replacement school that was announced in March of 2018. This recent transaction is fantastic news and indicates the start of visible and tangible progress to this exciting build that will serve Stony Plain students for years to come. The administration teams for both the school division and the Town have worked successfully to create this win-win scenario. Having Stony Plain Central School as a hub in this future development is truly exciting for all involved."
- Lorraine Stewart, Board Chair
"The completion of the property development and land exchange for the new Stony Plain Central School site is an important milestone for our community. Together with the Parkland School Division, the Town has worked to facilitate the land sale and develop a new school for our residents. As Stony Plain continues to grow, the needs of residents grow in tandem. We are committed to providing our community and younger generations with the services they need to thrive."  
- William Choy, Mayor of Stony Plain
Replacement School Announcement (March 2018)
Parkland School Division is pleased to announce that Stony Plain Central will be receiving a replacement school as part of the recently announced 20 school projects associated with the Alberta Government's Budget 2018 and specifically Alberta's 2018 Capital Plan.
The 20 projects comprise seven new schools, seven replacement schools, three modernizations, one addition to an existing school and two projects that have been approved for design. By investing in education, the province is creating jobs, while working to alleviate enrolment pressures in growing communities and addressing urgent issues in other schools across Alberta.
Budget 2018 allocates $393 million for these new projects, which are expected to be complete for the 2022-23 school year.
"This is such welcome news with the announcement of the approval for a replacement school for Stony Plain Central School. We are appreciative of our government's commitment to school capital projects in the province. Our Stony Plain public has been very patient in anticipation of the replacement of the aging Stony Plain Central School. We are most eager to begin design plans and hope to work closely with the Town of Stony Plain in their area structure plans." 
- Eric Cameron, Board Chair
"In Parkland School Division, we believe that learning is the foundation in all we do. We couldn't be more thrilled that we'll be pouring another foundation for another new school in our ever-growing school jurisdiction. For years now, our overcrowded schools have been forced to be creative when it came to using every square centimetre in their buildings. Spruce Grove is well on the way to right-sizing with the opening of two new Kindergarten to Grade 9 schools and the modernization of Woodhaven Middle School. The Town of Stony Plain has experienced similar enrolment growth and a new school in the heart of a rejuvenated town centre will be something all residents can be proud of for years to come."
- Tim Monds, Superintendent
"Our kids deserve to learn and grow in modern classrooms. That's why we are improving existing schools and building new ones where they're needed. With our announcement of 20 new and modernized school projects, we are making long-overdue progress and making sure all young Albertans can get a great education."
- Rachel Notley, Premier of Alberta
"Our government knows that stability in the school system helps students and their families, and we will continue to protect these core services for Albertans. We know that investing in education is one of the most important investments we can make in our province's future, and that is why we will continue to make these important investments."
- David Eggen, Minister of Education
For more information contact:
Jordi Weidman
Director of Strategic Communications
Parkland School Division
Email: jordi.weidman@psd.ca