Back to all posts
Posted on
New School Name Chosen - Westview School Opens in 2023-2024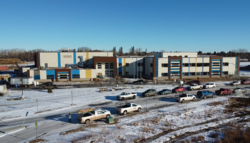 March 7, 2023 - The Board of Trustees for Parkland School Division has chosen the name Westview School as the new name for the replacement school for Stony Plain Central School. The recommendation, approved unanimously by the Board, was put forth by the School Naming Committee that conducted an extended community engagement with students, staff and the public.
The committee followed the process for school naming under the 'Naming Criteria' as outlined in Administrative Procedure 130: Naming of Schools, "the committee shall bring one (1) recommendation forward to the Board for consideration.
Administration consulted stakeholders, through a number of surveys to parents, staff and community, and gathered feedback to provide to the School Naming Committee. Administration also gatherer the historical information on the area, including street and community names, reviews of the educational programming intentions for the replacement school, and several other factors.
After careful consideration of all the information and feedback provided, the Committee has recommended that the Board of Trustees assign the name Westview School to the replacement school which is slated to open for the start of the 2023-2024 school year.
For more information, contact:
Stony Plain Central School
Email: stonyplaincentral@psd.ca
Phone: 780-963-2203